Army discovers shallow grave in search of missing General
The Nigerian Army has discovered a shallow grave in its search of retired Major General Idris Alkali, the immediate past Chief of Administration (Army).
General Officer Commanding 3 Division, Major General Benson Akinroluyo, disclosed this at a press briefing on Friday in Plateau State.
According to him, Major General Alkali was killed and buried in a shallow grave in an area popularly known as, "No man's land" in a community on the outskirt of Jos metropolis.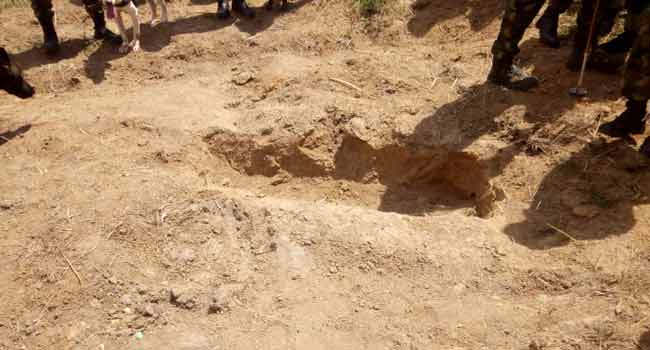 "You would recall that on September 2, 2018, at about 8:00pm, unknown gunmen attacked a shopping complex located at Lafande Community on the outskirt of Jos metropolis in Dura-Du District of Jos South Local Government Area of Plateau State," Major General Akinroluyo told reporters.
"As a result of the attack, 11 people were killed while others sustained various degrees of injuries. The attack triggered protest by the people of the area on the morning of September 3, 2018."
During the protest, General Officer Commanding said scores of youths blocked the Eastern Bypass with stones and other dangerous objects.
He disclosed that the late general who recently disengaged from the Nigerian Army was travelling alone in his black Toyota Corolla car from Abuja to Bauchi via Jos same day.
Akinroluyo said they gathered from a credible source that the Akali's car was stopped and he introduced himself as a general to the hoodlums who had barricaded the road that he was just passing through to Bauchi.
He explained that the senior officer was thereafter assaulted and killed, after which his money, phones, and valuables were "shared by those who killed him".
He revealed further that the body of the late military officer was moved to somewhere else while his car was driven and pushed into an abandoned mining pit filled with water.
"The irate youths who followed his car to the abandoned mining pit filled with water on many tri-cycles popularly known as "Keke NAPEP" jubilated for reason best known to them or for mission accomplished.
(CHANNELS)
Digital Economy: NITDA launches 'Smart Agric Platform' to create jobs
The National Information Technology Development Agency (NITDA) has launched a platform Smart Agro Business to connect Nigerians who are interested in investing in agro business.
The Director General of the Agency, Kashifu Inuwa Abdullahi, CCIE said that Smart Agro Platform comprises of farmers, government agencies, agric experts, banks and micro-lenders, extension services, hardware solution providers, software developers, customers, marketplace, among others across the agric value chain.
He said, "This project was conceived in order to support Honourable Minister of Communications and Digital Economy, Dr Dr Isa Ali Ibrahim Pantami's focus especially in making his dream reality towards turning the country into digital-driving economy and ensure the attainment of Sustainable Development Goals (SDGs) which is end hunger and achieve good security by 2030.
The DG further noted that Smart Agro is the beginning of a transformation in the agriculture sector to enable farmers contribute effectively to the digital economy of Nigeria and create jobs for the teeming youths.
"What we did is to rethink agriculture differently, by creating a digital platform that will connect the Agric ecosystem and enable the possibility of new business models by the private sector which will, in turn, generate new products and services and create value across the Agric value chain," he said.
He added that, "NITDA Adopted Village for Smart Agriculture (NAVSA) is a project conceived to create about 6 million jobs in the next 5 to 10 years through our technology platform.
According to NITDA desk officer department of e-Government development and regulation Lukman Lamid the idea is to support 25 graduates in each of the 774 LGAs on modern agric methods, give them the resources and the right technology to enable them to manage their farms from planting to harvesting and marketing.
"This pilot phase is a proof of concept which had witnessed selection, training and support of 15 graduates in Gombe state on modern farming methods in collaboration with National Agriculture Extension and Research Liaison Services (NAERLS).
"We have developed a digital platform in which its mobile app components will continue to serve NITDA supported farmers, any other farmer and all the ecosystem members when it is fully ready.
Lamid noted that ability to get information to monitor farms in real-time and connect with resources to manage farm effectively will improve crop yield, quality of farm produce per block of land and profit for these farmers.
"In the future, we would deploy and integrate smart technologies such as IoT on the platform to improve the accuracy and the processes of getting information in real-time, integrate with GIS technologies, Artificial Intelligence, Big data analytics among other emerging technologies to add more value to the platform.
Lamid stated that the innovation is a product of research paper "Towards Diversification of Nigeria Economy through Smart Agriculture" published by the Minister in June 2017 in International Journal of Computer Science and Information Technology Research.
Sowore: US senator flays FG, says Nigeria has no regards for rule of law
Robert Menendez, a US senator from New Jersey and member of the senate foreign relations committee, says the events surrounding the rearrest of Omoyele Sowore shows that Nigeria no longer has regards for the rule of law.
On Friday, operatives of the Department of State Services (DSS) rearrested Sowore, convener of #RevolutionNow Movement, and Olawale Bakare, an activist, at the federal high court in Abuja less than 24 hours after they were released on the orders of the court.
There were rearrested less than 24 hours after their release after spending 124 days in detention.
Menendez, who said it seems President Muhammadu Buhari is not aware of what the secret police is "doing in his name", added that Sowore ought to be celebrated and not incarcerated.
He said the development is unacceptable from a country that practices democracy, pushing for a reassessment of the bilateral relations between Nigeria and US.
"The United States is watching and the world is watching. I fear that the blatant harassment of Mr Omoyele Sowore, an activist and journalist whose only crime appears to be exercising his right to free expression, is becoming symptomatic of increasingly closing political and civic space in Nigeria," Menendez said.
"The Nigerian court has twice ordered his release on bail. And the state security agencies openly defied the court order each time leaving me to conclude that either Nigeria no longer respects the rule of law or President Buhari is woefully out of touch with what agents of his governments are doing in his name.
"This is unacceptable in a country that calls itself a democracy. Journalists who risk their lives to expose the truth should be celebrated, not incarcerated.
"It is unacceptable to that the husband and father of a US citizen with such blatant cruelty. Today, my office contacted our ambassador in Nigeria in an effort to obtain answers on what actions the United States is taking on the Sowore family's behalf.
"In the next several days, I'll continue to engage with the states department in Washington to ascertain the impart of what the arrest of Mr Sowore and other activists and journalists will have on our relationship with Nigeria. My hope is that the bilateral relationship we have with Nigeria will be reassessed in light of these events."
Last month, the lawmaker had written a letter to Sylvanus Nsofor, Nigeria's ambassador to US, over the crack down on journalists and activists".
Edo Assembly declares 12 seats vacant
Edo State House of Assembly on Wednesday declared 12 seats in the assembly vacant.
The seats declared vacant are those of members-elect who have refused to present themselves for inauguration into the 7th Assembly and two others who did not meet the mandatory sitting requirement to continue as members of the House.
The Speaker of the House, Mr Francis Okiye, said even if the affected members decided to resume, they would not be able to meet the mandatory 180 sitting days as enshrined in the constitution.
The affected 12 members-elect are Vincent Uwadiae- Ovia North-East 2; Ugiagbe Dumez -Ovia North-East 1; Washington Osifo-Uhunmwode; Victor Edoror-Esan Central; Kingsley Ugabi- Etsako East; and Michael Ohio-Ezomo Owan West.
Others are Sunday Aghedo-Ovia South-West; Chris Okaeben-Oredo West; Crosby Eribo-Egor: Aliyu Oshiomhole-Etsako West 2; Oshomah Ahmed -Etsako Central and Ganiyu Audu-Etsako West 1.
Okiye, while declaring the seats vacant, said the 12 members-elect refused to come forward to process the necessary documentation as part of the condition for their inauguration.
He said, "12 out of the 24 members-elect who completed their screening and documentation process were inaugurated on June 17, 2019 out of which two of them have refused to discharge their legislative duties.
"They have refused to represent their constituents in the House, invariably denying their constituents effective representation.
"At this point, I am declaring the seats of the 12 members-elect vacant in accordance with Section 109 Subsection 1F of the constitution."
Okiye thereafter called on the Independent National Electoral Commission to conduct by-elections for the affected constituencies within 90 days.
The Deputy Speaker of the House, Mr Yekini Idiaye, representing Akoko Edo State Constituency I, said the lawmakers arrived at the decision to declare the seats vacant following over 100 petitions and protests from the people of the constituencies who complained of neglect as a result of lack of representation by the members-elect.
But the spokesman of the affected lawmakers-elect, Mr Washington Osifo, said the action of the assembly was laughable.
He said, "It is a laughing matter because the matter is before the court and when a matter is before the court, such action is sub judice.
"We are challenging the illegal inauguration of the House and anything put on nothing cannot stand. So, Okiye is a man that is in search of identity, he is working with the governor in the pursuit of a blind ambition, they have hit the rock."
He said the House also passed the 2020 Appropriation Bill and affirmed the removal of the suspended Chairman of Etsako East Local Government Area, Alhaji Aramiyau Momoh.
Other matter considered at the sitting, according to him, was the confirmation of the members of the board of the Edo State Internal Revenue Service.
-PUNCH